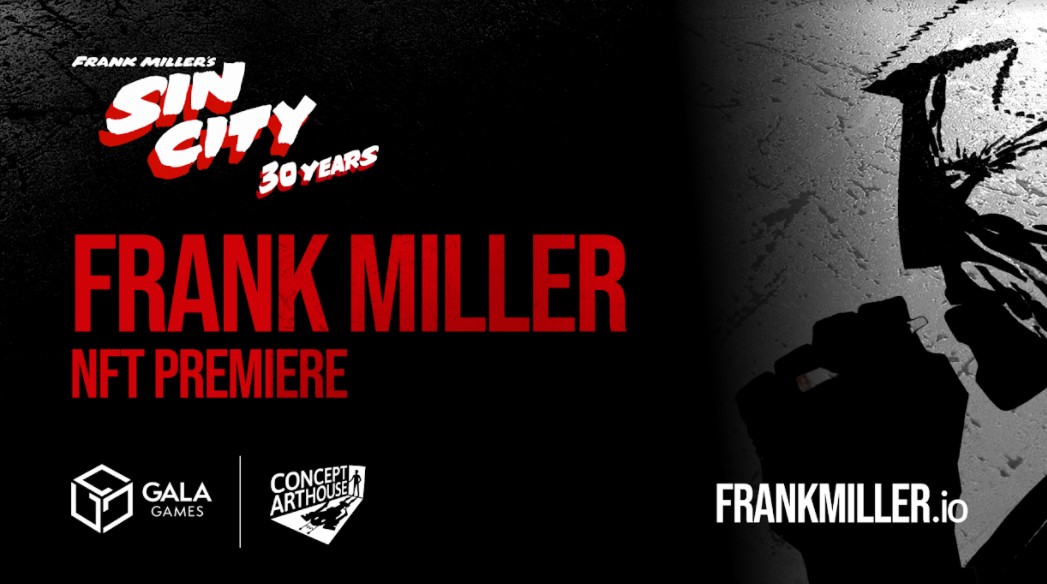 Hi, this is Adreynn Ashley for CryptoDaily, and today we are talking with the iconic artist, Frank Miller. Frank Miller has an NFT launch coming up with Gala Labs and Concept Art House to celebrate the 30th anniversary of the release of the graphic novel Sin City. The drop will be on www.FrankMiller.io starting September 29th. He is joining us today to talk about what NFTs mean to artists and to him and what we are going to see.
[embedded content]
AA – Welcome Frank, I am so excited that you joined us today. Full disclosure – I am a super super fan! You are the iconic artist of SIN CITY, which I have seen everything, read everything! I love the comics, and now you are getting into NFTs with a launch at www.FrankMiller.io (go sign up to get up to the minute information about the NFT drops). Talk to me Frank about what it was like for you to go from traditional art into this brand new market of NFTs.
FM – It's been a pretty organic process, and an exciting one. It's a whole new world. One thing you never get making comics is the three-dimensionality (of NFTs). It is something that you aspire to when you're drawing, to really see things form and turn. It's wonderful.
AA – Tell me about this launch. There are 11 pieces and one of the things, when I was reading over what you were doing, I'm a big fan of community building within NFTs. You know, there are one-of-ones where only one person can get it. They're great for the art world, but you are such an iconic personality, there are millions of people around the world who are going to want to have a piece of you in, for permanency. The blockchain gives us that permanency. And so talk to me about what it is that you're actually releasing.
FM – Yes it's 11 pieces and they're all just exploring the metaverse that I developed in putting Sin City's world together. So far my favorite is this crazy crystal of Marv. It is so raw and full of power. I mean, it just captures the intensity that I'm after with my brush.
AA – When people buy these NFTs, one of the best parts about an NFT is that the artists can dictate its royalty on the secondary market. So for artists everywhere, can you talk about why getting into NFTs is actually great for supporting artists?
FM – The more I learn, the more I realize how crazy it seems to be. I think it's a long overdue restructuring in creating a more direct relationship.
AA – And that's what I love about NFT's for building community, right? You have the ability to take an open edition where any of your fans can purchase this and later on can actually create some special things just for your fans. And if they have one of these NTFs, you can token gate the access that gives them access to this special thing, just with you, I love that personal relationship piece. So this is the first your drops and they're not all happening at once. Can you talk about how it's going to work for people?
FM – Well the pieces will be individually dropped over a period of time starting on the 29th – it's sort of going to be random and a bit of a surprise. There will be a couple limited editions and a couple of open editions, so there is something for everyone.
AA – The art pieces themselves have been worked on with Concept Art House and Gala Games – Gala Games being the leading blockchain gaming platform, especially on NFTs. What they're doing is really revolutionary, which I think is perfect to pair up with Sin City. So what has it been like for you as an artist to work with technologists?
FM – Ohhhhh, it was exactly like the moment when you're meeting with a publisher, when you talk with them, and you feel that they really understand what you're up to and they want to help take it a step further. I think that it's teaming up to be a great collaboration.
AA – Because of your legendary career, you have a lot of people that kind of use your similar style. One of the things that NFTs bring to the table is the ability to give fans ownership of the actual real artwork, so that they know they're not getting somebody else's version or interpretation of your work. Are these pieces from your actual comics? Are they animated? What have they done with the original work?
FM – Well all kinds of things, it's basically been adding dimension every which way. There's a great deal of animation and the 3D sculpting is particularly exciting to see.
AA – What has been your biggest aha moment in creating the NFTs?
FM – The biggest one was when I first saw the Marv piece. It was from a drawing that I had done on an 11×17 sheet. And when I saw how that had been taken and pushed further. I did this piece for the NFT but then I saw what was done in their hands, I realized that I could push things further and the possibilities were just endless. It's a whole different kind of cartooning and a whole new dimension to it.
AA – As an artist, do you feel like your talents are being stretched and increased by getting into NFTs?
FM – Absolutely.
AA – What would you like your fans to know about this drop in particular and about why they should join in this drop?
FM – Well, I've always found that when I'm having a great time, people who are looking at my art tend to have a good one too. I think that it's going to be a real celebration.
AA – And long overdue. This is the 30th Anniversary of Sin City, so this gives us a whole new revitalization of the brand.
FM – It is definitely something we can share together here and it's one of the things that's gotten me totally super charged up about Sin City again. And I just see no end of possibilities now.
AA – There were some movies that were done for Sin City, and lately there have been some movies done with NFTs. Could there possibly be a Sin City 3 in the future, in an NFT version?
FM – Anything is possible.
AA – I'm just like letting you know what your fans are texting me, when I said I get to interview Frank Miller and they're super excited. And one of the other things was about the metaverse, they were asking do we get a Sin City Metaverse?
FM – (long pause)
AA – Was that a yes?
FM – It's a maybe (with a smile in his voice).
AA – Okay. We're going to tease this. We will get enough fans behind it that it'll make it worth your while. I think a metaverse would be very cool.
FM – I never met a metaverse I didn't like.
AA – There you go – Frank Miller with Gala Labs and Concept Art House celebrating the 30th Anniversary of the graphic novel Sin City with a special edition NFT series featuring 11 pieces being dropped in stages starting September 29th at www.FrankMiller.io. The first piece is that crystal piece that Frank Miller was discussing. And I can not wait to see it. Thank you so much, Frank.
Disclaimer: This article is provided for informational purposes only. It is not offered or intended to be used as legal, tax, investment, financial, or other advice.