Senator Eduardo Murat Hinojosa has announced that he will propose a legal framework for virtual currencies in the chamber. The news comes shortly after El Salvador made Bitcoin legal tender.
Following the news that several Latin American countries such as El Salvador , Paraguay, and Panama have promoted cryptocurrencies, and in the case of El Salvador, ratified the use of Bitcoin into law and as legal tender, Mexico appears to be next in line.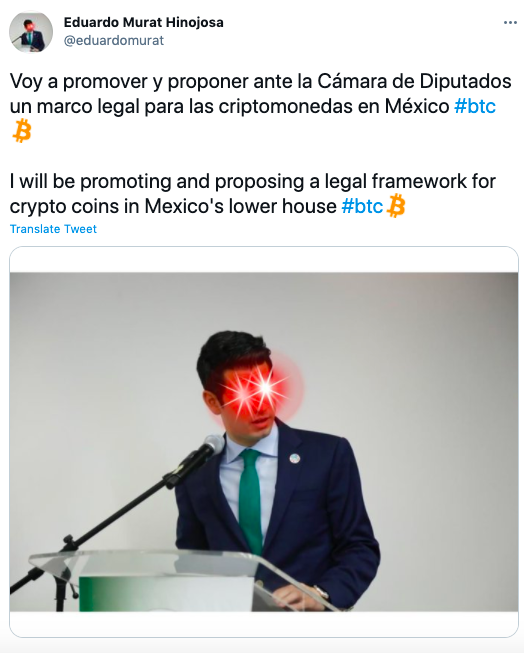 The nation of El Salvador has become the first country to adopt Bitcoin as legal tender, on Wednesday Congress passed the motion with 62 out of 84 votes. Additionally, El Salvador has announced that they will be pushing for the use of green energy using geothermal power. Now North of the border, the Senator of Mexico's federal government has revealed on his Twitter account that he will propose a legal framework for virtual currencies.
The cryptocurrency domino effect taking place in Latin America contrasts starkly with the outright ban in China, and the attitude towards cryptocurrency from some of the wealthiest nations in the world. The exact reason behind the increase in adoption of cryptocurrency in Latin American nations is complex, but is due to a number of factors.
With a large percentage of the populations of countries in Latin America unbanked, cryptocurrency offers individuals access to otherwise restricted financial services. Countries such as Mexico, Argentina, Venezuela and El Salvador have mass use of digital currencies, due in part to the relative security that they provide in times of economic turmoil. Argentina, in particular, has a volatile national currency that is distrusted by its citizens. As an alternative to volatile currencies, and often equal volatile social political climates, countries in this global region find relative stability in virtual currencies.
If Mexico's crypto proposal were to be ratified, it would cement the nation's support for cryptocurrencies, and provide a welcome boost to the Mexican crypto economy, as well as build on the Bitcoin momentum in other neighbouring countries.
Disclaimer: This article is provided for informational purposes only. It is not offered or intended to be used as legal, tax, investment, financial, or other advice.